By Stephanie Anderson, Public Policy Associate Manager, Facebook
Since last writing to update members of Media Literacy Ireland (MLI) on Facebook's company-wide efforts to tackle COVID-19 misinformation, there have been many notable moments in the course of the pandemic. While COVID-19 continues to unfortunately spread within our communities, the emergence of breakthrough vaccines offers hope for the future. Throughout the twists and turns of this pandemic, Facebook continues to develop, consult, evolve and update our policies and enforcement measures to keep people safe and informed on our platform.
I am now going to take you through some updates since my last article. I hope this will convey the seriousness with which we consider our role at this time. With more than 3 billion people using Facebook's apps every month, we are all too aware of the importance of amplifying government's public health messaging; tackling misinformation; directing users to authoritative sources and; giving users the tools to make informed decisions about news they consume.
Working with the HSE
One of Facebook's key priorities during the COVID-19 pandemic has been supporting the Government's public health response. Since the first case of COVID-19 was detected here, we have been working with the HSE to amplify their messaging.
To date, we have provided €70,800 to the HSE and €22,000 to the Department of the Taoiseach in free ads to promote their campaigns on Facebook and Instagram. We have rolled out features and new products which direct users to the HSE's dedicated COVID-19 website. This includes the COVID-19 Information Centre which can be found within the Facebook app. It provides a central repository for Facebook users to get the latest authoritative information, updates and data from the HSE and WHO.
In the first month of the COVID-19 outbreak, the prompts in Facebook News Feed resulted in over 204,000 visitors to the HSE website.
With the vaccine rollout underway we continue to provide free ads and identify new and innovative ways of supporting the Government's public health messaging. For example, if you search for "COVID-19 vaccine" on Facebook or Instagram you will be prompted to visit the HSE's website in order to receive reliable, up-to-date information about vaccines.
Tackling misinformation
Remove, Reduce and Inform is our three-pronged approach to combatting misinformation on Facebook.
We remove misinformation when it could contribute to imminent physical harm. We work closely with external experts to help us understand when online content can lead to real world harm. This could include false cures such as "drinking bleach cures COVID". As the COVID-19 vaccines began to emerge we updated and expanded our policies. We now remove false claims about the COVID-19 vaccines that have been debunked by public health experts. We will also remove conspiracy theories about COVID-19 vaccines that we know today are false.
For misinformation that does not lead to imminent physical harm, our approach is to dramatically reduce its distribution in News Feed. This means that we allow people to post it as a form of expression, but we do not show it at the top of News Feed which prevents it from spreading virally.
We empower people to decide for themselves what to read, trust, and share by informing them with more context. We are showing messages in News Feed to people who have liked, reacted or commented on harmful misinformation about COVID-19 that we have since removed. These messages will connect people to COVID-19 myths debunked by the WHO including ones we have removed from our platform for leading to imminent physical harm. We want to connect people who may have interacted with harmful misinformation about the virus with the truth from authoritative sources in case they see or hear these claims again off Facebook.
Our approach is dynamic and will evolve both with new public health guidance and as the online and offline environment changes. For example, we will work with the HSE to update our list of debunked claims based on content being shared in Ireland.
Between March and October of 2020, we removed more than 12 million pieces of content on Facebook and Instagram globally for containing misinformation that may lead to imminent physical harm.
Facebook works with more than 80 independent third-party fact-checking organisations in 60 languages globally to identify, review and rate viral misinformation on our platforms. In Ireland, TheJournal.ie is our fact-checking partner. Facebook takes action on content rated false by third-party fact-checking partners by demoting content in News Feed, adding a warning message for people who try to share the content, notifying users and Pages that shared the content before it was rated, and providing more context to users about the information they see; such as the publisher, the fact checking articles, where it's been shared, and more.
Between March and October 2020, we displayed warnings on close to 167 million pieces of content on Facebook based on COVID-19 related debunking articles written by our third-party fact-checking partners.
On Whatsapp, we launched a pilot for Irish users which lets them easily find more information about content that has been forwarded many times. Users simply need to tap the magnifying glass button in the Whatsapp chat to upload the message via their browser and double check its content.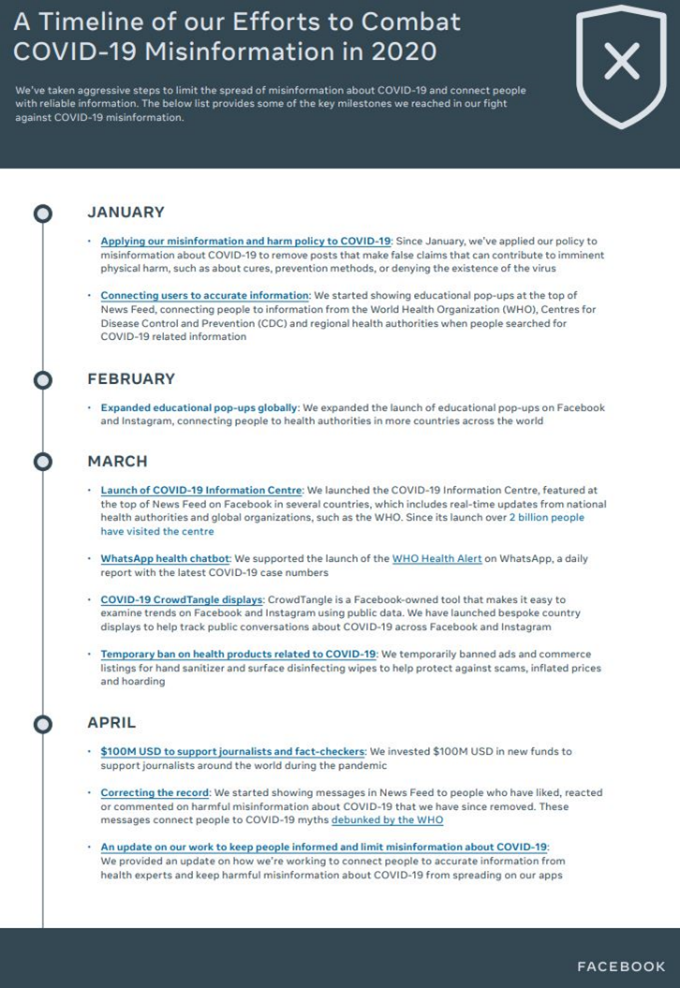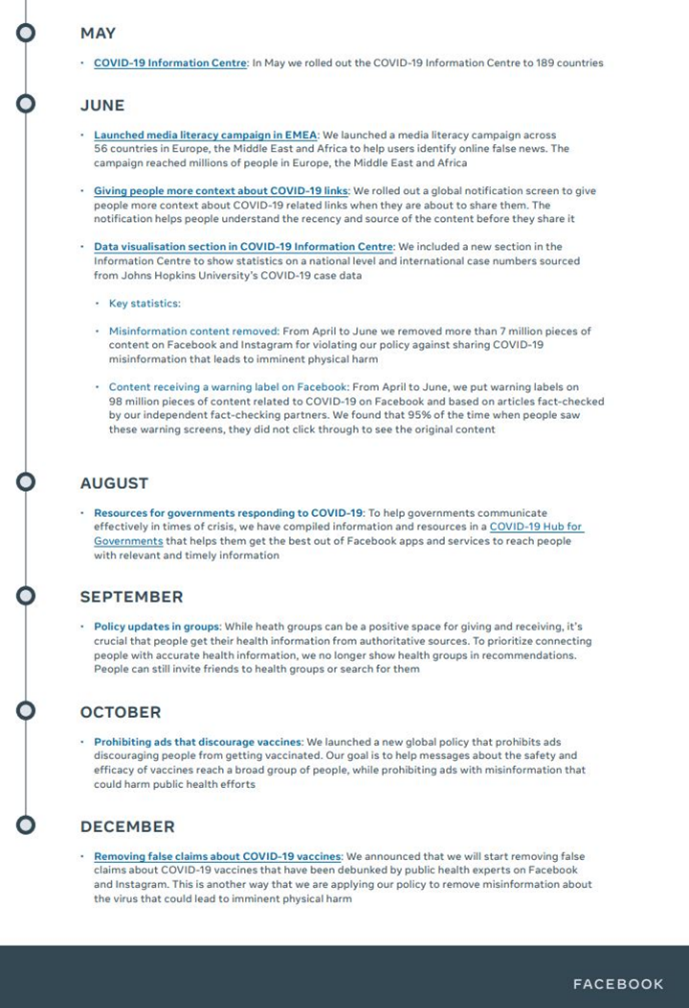 Promoting media literacy
Facebook wants to give people the tools to make informed decisions about the information they see online and where it comes from. To support this effort, and in consultation with some of our fact-checking partners, we conducted a 4-week campaign during summer 2020 to educate and inform people about how to detect potential false news. The campaign reached 1.7 million users in Ireland.
The campaign featured 'Three Questions to Help Stamp out False News', which appeared on Facebook adverts and directed people to a dedicated website with a full set of tips – www.stampoutfalsenews.com. These adverts asked people to challenge the information they see on posts by asking themselves the following:
Where's it from? If there's no source, search for one.
What's missing? Get the whole story, not just the headline.
How does it make you feel? People who make false news try to manipulate feelings.
Alongside the campaign, we ran a study to examine the effectiveness of our approach. We separated the total audience of the campaign into test and control groups. Through this test we saw a positive lift of 7.4 percentage points in users actively remembering seeing the ads and a lift of 2.4 percentage points in users reporting behaviour change after interacting with the campaign. The lift percentage indicates the difference between the test and the control group. We will use these findings to inform future media literacy campaigns in Ireland.
We are delighted to work with expert media literacy partners in rolling out a pilot programme targeting adult literacy in the community, with a particular emphasis on developing critical thinking skills. Consultation with relevant stakeholders led to the targeting of the cohort most in need. The development of this collaborative partnership which includes Facebook, the National Adult Literacy Agency (NALA), the Local Government Management Agency (LGMA) and local library authorities showcases the power of shared insights and collective efforts. We are delighted that MLI is promoting our call for tender for a service provider to design and implement the media literacy training module. We look forward to updating MLI members as the pilot programme progresses.
Finally, as a proud member of MLI, Facebook was delighted to support MLI's 'Be Media Smart' campaign during this pandemic. The campaign encouraged the public to 'stop, think and check' the news they consume and directed users to a dedicated website where they could find helpful tips and resources – www.bemediasmart.ie. Facebook supported the campaign by issuing over €25,000 in free ads to members of MLI in the not-for-profit sector to help them promote this important campaign among their own communities.
You can keep up to date on all Facebook's efforts during the COVID-19 pandemic by visiting our website: https://about.fb.com/news/2020/12/coronavirus/