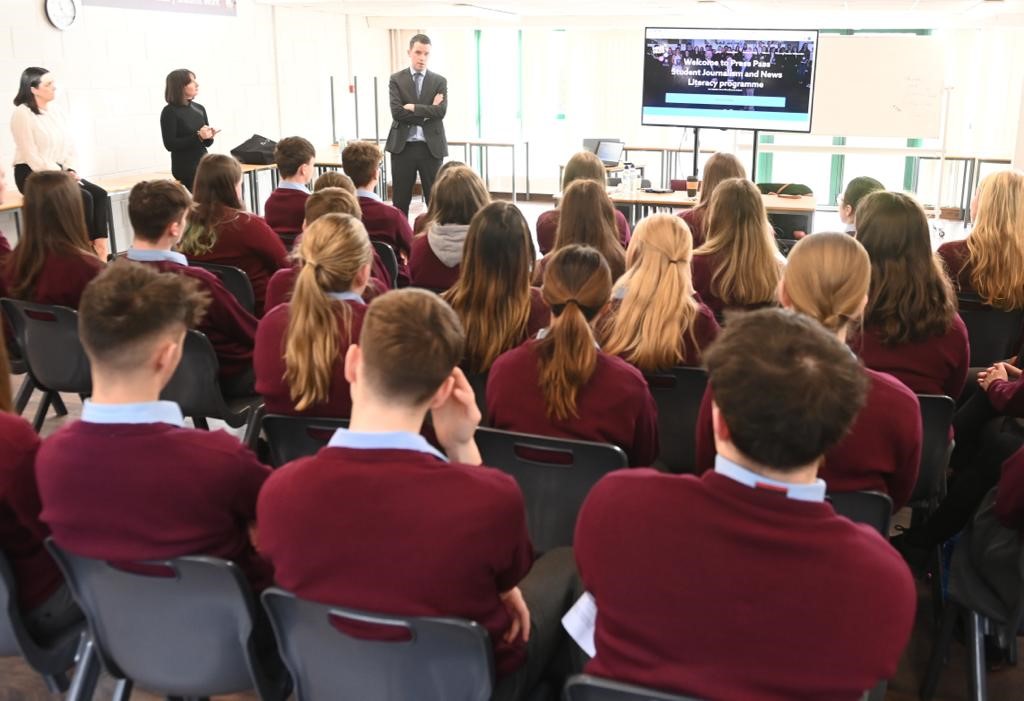 Irish Examiner Editor Tom Fitzpatick leads first workshop with TY students in Millstreet Community School
NewsBrands Ireland have commenced a new series of free interactive journalism workshops for Transition Year students. The workshops complement their Press Pass School Journalism and News Literacy programme which has been running for the past 12 years.
The first workshop took place in Millstreet Community School, Co. Cork on March 30th and featured Tom Fitzpatrick, Editor of the Irish Examiner, and Lisa Buckley, Communications and Programmes Director with NewsBrands Ireland.
Speaking to an assembled group of over 40 pupils and teachers, Tom brought his real life experience of working as a national newspaper editor to the group and answered questions in a Q&A with pupils on topics such as: How to Pick a Front Page Story; Fact Checking Information; Multi Platform News Publishing; Campaigning Journalism; How to Pitch a News Story; Journalism Ethics and Standards, and Journalism and AI.
The pupils then broke into groups and had a chance to pitch a news story of their choice to the Editor. The pitch had to be newsworthy and include ideas of who to interview and how the story could be presented, e.g. video journalism, photo journalism, feature, news story, or opinion piece. The pitches were then considered by Tom and he provided feedback on whether or not the story could be published.
NewsBrands Ireland's Press Pass Student Journalism and News Literacy programme gives students the opportunity to gain a greater understanding of the news media and how it works by learning to do journalism themselves. Along with encouraging the next generation of journalists, the main goal of the Press Pass TY Programme is to help students make informed judgments about the news they read and share online.
If you are teacher looking to arrange a journalsm workshop in your school, you can send a request to NewsBrands Ireland. For further details, go to https://presspass.ie/