Philip Russell, Deputy Librarian at Tallaght Campus spoke to UNESCO at their Global Media & Information Literacy Feature Conference in Gothenburg on September 25th about Ireland's approach to the development of media and information literacy.
The theme of the conference was 'MIL citizens: Informed, Engaged, Empowered' – 350 delegates from over 50 different countries attended the conference at which the importance of media literacy was highlighted in terms of democratic values and fundamental rights, active citizenship and social inclusion. The development of media and information literacy skills is a key global priority for UNESCO.
Professor Ulla Carlsson, UNESCO Chair on Freedom of Expression, Media Development and Global Policy gave the keynote address in which she spoke of the importance of political leadership and the value of a multi-stakeholder approach to the development of MIL competencies at national level.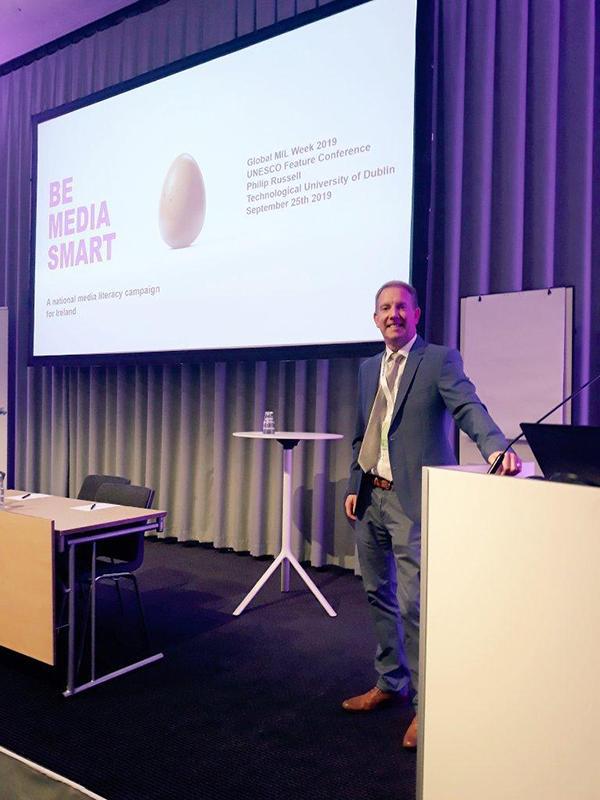 The importance of ongoing capacity building, networking and engagement to impact media literacy policy change within Government was a key theme at the conference.
Theses themes echo the purpose and approach adopted by Media Literacy Ireland.
Philip Russell, who is an active member of the Engagement and Participation Working Group of Media Literacy Ireland highlighted the work of Media Literacy Ireland and gave an overview of the Be Media Smart campaign.
Highlighting the value of what can be achieved nationally in terms of media literacy development through a cross-sector collaborative approach, Philip outlined the process and the outcomes from the campaign, paying particular attention to the broad range of partners involved and the leadership provided by the BAI.
Over 150 delegates attended this talk, which was followed by Q&A and further discussion around Irish policy initiatives for media and information literacy.