By Martina Chapman, National Coordinator MLI
Marian Higgins, the library representative on the MLI Steering Group, opened the webinar by pointing out how libraries are well known as providers of information, but libraries and library staff have always supported their users in learning and acquiring essential lifelong skills.
These skills include information literacy (how to find, evaluate and use information), digital skills (how to use computers and the Internet) and now media literacy (understanding, evaluating, accessing and using media).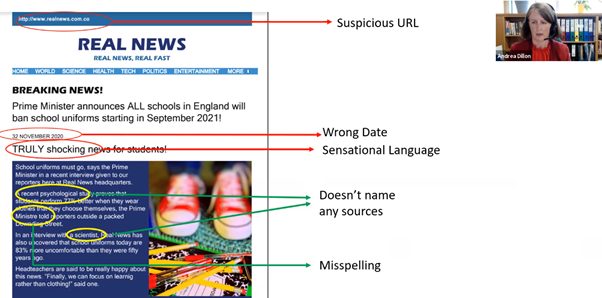 Andrea Dillion, School Librarian with Blackrock College Library gave an excellent overview of how she teaches media literacy and critical thinking to students, including tips and tricks and highlighting a range of excellent resources readily available to librarians, teachers and tutors. She also made the point that School Librarians could contribute so much to the education of young people but were unfortunately not common in schools.
Anne Marie O'Dwyer, Executive Librarian on the Libraries Development team in the Local Government Management Agency (LGMA), took us through a Pilot Project developed to improve Media Literacy Skills for Adults through Public Libraries which took place between March and June 2021. The learning module consisted of 5 X 2 hour workshops covering competencies such as responding to pushback and mistrust; building a positive digital presence online; informal interactions with library clients; designing an interactive workshop; and, organising an expert round table.
Maedhbh Rogan McGann, Senior Executive Librarian with Meath County Council, and Mark McLoughlin, Librarian with Meath Library Service then presented their experiences of running the media literacy initiatives in public libraries. Mark spoke about the Glassroom project that was delivered in Meath Library in conjunction with Tactical Tech. The aim of the project was to work with young people on the topic of misinformation, social media, reliable news sources and the role of influencers on our lives. The project consisted of a poster campaign in the library, four interactive apps, a virtual tour of the exhibition, an online survey and two online pre-recorded workshops, downloadable content and links.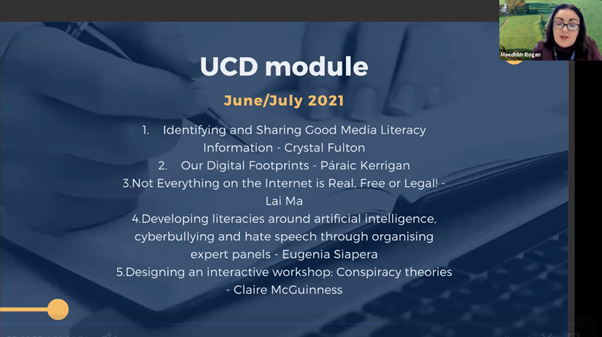 Maedhbh talked in more detail about the learning module of 5 X 2 hour workshops that Anne Marie had mentioned earlier. Developed by UCD professionals, the workshops covered a wide range of topics including: identifying and sharing good media literacy information; Our Digital Footprints; Not everything on the Internet is real, free or legal; Developing literacies around AI, cyberbullying and hate speech through organising expert panels; and Designing and interactive workshop on conspiracy theories.
Aoife Lawton, National Health Service Librarian for the Health Service Executive, talked about the role of the National Health Service Library during a pandemic and the importance of gathering evidence , including the 'pyramid of evidence' and getting it to the frontline staff.
"Information can save lives where as misinformation can cost lives."

Aoife Lawton, National Health Service Librarian for the Health Service Executive
Aghna Harte, Campaigns Director, Programmes and Campaigns, HSE Communications, outlined the campaign to combat misinformation to the Irish public in relation to Covid-19 and the vaccine including the importance of listening to the concerns of the audience and directing them to the correct information.
Finally Philip Russell, Senior Librarian at the Technological University of Dublin, talked about the work that Academic Libraries have been doing for a long time in relation to information literacy and helping users retrieve, use and evaluate information and providing quality information. Philip highlighted how third level institutions are developing modules designed to promote critical thinking skills.