As part of Ofcoms mission to make communications work for everyone, this newly published approach recognises that media literacy is the way to build a safer life online and fully participate in society. It also recognises the imbalance of skills and knowledge among different parts of the population and the role of platforms in terms of making it as easy as possible for people to understand and use their services safely and effectively.
The online media literacy programme is based on the overarching principles that:
• Media Literacy is fundamental to inclusion.
• Media Literacy is fundamental for people being able to live safe and savvy lives online.
• Media Literacy is as much about what platforms and services do as it is what users do.
There are five pillars to Ofcoms programme of work around online media literacy:
– Engage with the wide range of media literacy practitioners. Recognising the wealth of knowledge, expertise and action that already exists within the media literacy sector and working to convene, facilitate and support the activities of this wide range of organisations.
– Initiate pilot trials and campaigns to promote online media literacy. Supporting the sector by trialling initiatives to serve specific cohorts in communities recognised as having particular media literacy
needs.
– Establish best-practice design principles for media literacy. The companies which provide the most popular and widely used services can help users have meaningful control over what they see.

– Evaluate the effectiveness of media literacy initiatives. Media literacy evolves, is multi-dimensional in character and is subject to many varying influences so Ofcom will produce accessible and interactive guidance on how to evaluate it and an evidence base on what works.
– Research the state of media literacy and share the evidence base.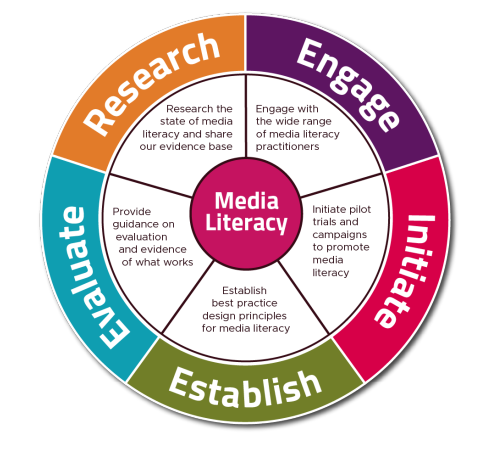 The new approach is set against a regulatory policy backdrop that includes Ofcom's existing statutory duty to promote media literacy under the Communications Act 2003; Ofcom's new regulatory powers around video-sharing platforms (VSPs) established in the UK; the Digital Regulation Co-operation Forum (DRCF) which brings together Ofcom, the Information Commissioner's Office (ICO), the Competition and Markets Authority (CMA) and the Financial Conduct Authority (FCA); and, the draft Online Safety Bill, which is intended to grant Ofcom new responsibilities as the online safety regulator.