Webwise, the Irish Safer Internet Centre, is responsible for the coordination of Safer Internet Day, which this year takes place on Tuesday, February 8th. The internet is an integral part of our lives, providing fantastic opportunities to learn, create and connect, but the online world also creates challenges. This year for Safer Internet Day, Webwise and the National Parents Council Primary are running a campaign to support parents in their engagement with their children's lives online.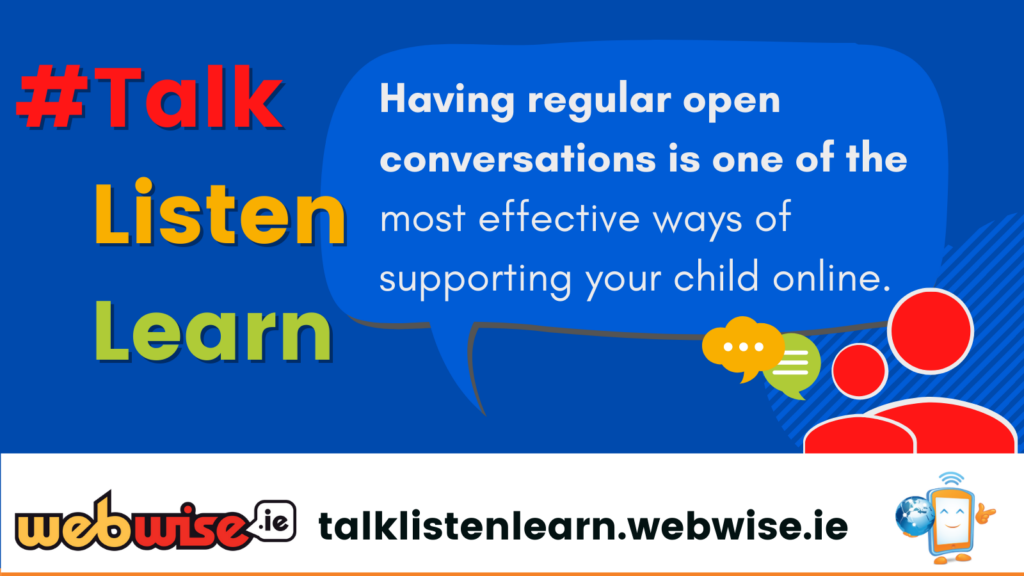 The #TalkListenLearn campaign encourages parents to have open and regular conversations with their child about the internet. To talk to them about benefits and the risks, but also to listen to what their child has to say and to learn about their life online. Research consistently shows that many children do not tell if something goes wrong online. Having conversations with your child is one of the most effective ways of ensuring that they have a safe and positive experience, and to help them to feel comfortable coming to you if they encounter an issue.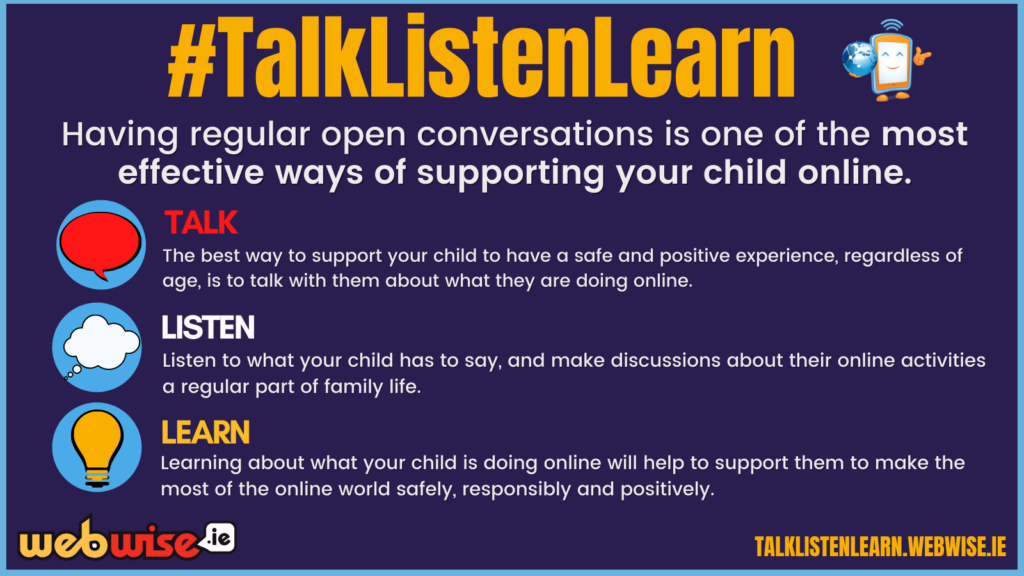 Everyone has a role to play in creating a safer and better internet. See below for suggestions about how MLI members can support the #TalkListenLearn campaign to help support families for Safer Internet Day 2022.
Encourage organisations and clubs within your network to consider marking Safer Internet Day and registering their plans on the Safer Internet Day map. The Safer Internet Day map is an interactive map which shows the events that are taking place for Safer Internet Day. Visit webwise.ie/saferinternetday
Promote the #TalkListenLearn campaign through your network for Safer Internet Day, and on digital communications such as newsletters, websites and social media. Highlight the key campaign message, and create awareness of the tools available to help support parents and their families.
Register on the Safer Internet Day map as a SID Supporter. Visit webwise.ie/saferinternetday
Encourage your network to host an event using the short Parents Talk Presentation, which has a full script for organisers convenience or can be accessed as video.
Share #TalkListenLearn materials and resources for parents. These include Parent Toolkit; Family Agreement on Online Safety; Talking Points for Parents; Safer Internet Day Supporter Certificate; and the interactive #TalkListenLearn topic generator to inspire open conversation between parents and children. Visit talklistenlearn.webwise.ie
Share #TalkListenLearn videos and messages on social channels.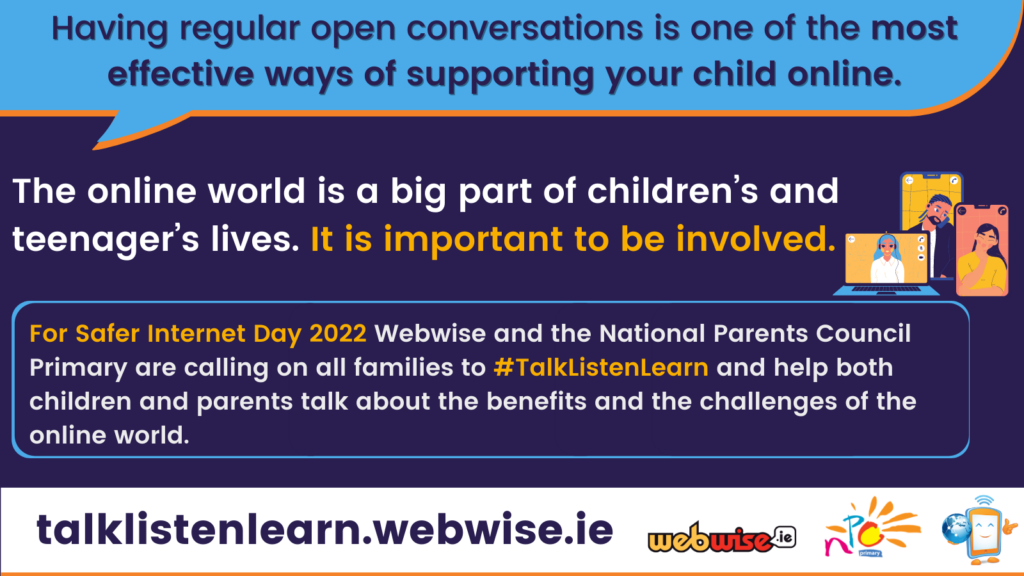 Sample Social Media Posts
On Safer Internet Day on February 8th2022 Webwise and the National Parents Council is calling on everyone to #TalkListenLearn. The campaign encourages families to have a conversation about the online world, and support parents as they help their child make the most of the opportunities offered by the internet in a safe and positive way!
The day is an opportunity for your organisation to show your support, and to get involved in the global conversation! That could be by highlighting how important it is parents and young people to #TalkListenLearn, or by showcasing the benefits of the internet.
Post your support for Safer Internet Day on your organisation's social media account!
Organisation name is celebrating Safer Internet Day 2022! It is a great opportunity for families to have conversation about the online world and #TalkListenLearn – find out more about how to get involved at webwise.ie @Webwise_Ireland #SID2022
We are getting involved in Safer Internet Day! The #TalkListenLearn campaign supports parents help their child make the most of opportunities of the online world safely and positively. Start the chat with the @Webwise_Ireland Topic Generator webwise.ie #SID2022
Safer Internet Day is on February 8th! Open and ongoing conversations with your child is the best online safety strategy – to find out more about #TalkListenLearn and get involved in #SID2022 visit webwise.ie